It's essential to have a good UPC to ASIN converter tool at hand, and it implies to every FBA seller, even the new ones that have just started selling with Amazon.
But why do you need such tools, and which one to use for bulk UPC to ASIN conversion?
Matching UPC to ASIN is a bad idea, and these tools help you create ASINs using UPC, so that there is no product mismatching.
Here are the top UPC to ASIN conversion tools FBA sellers use and recommend.
What are UPC and ASIN, By the Way?
If you are a new seller or planning to sell with Amazon, you may not know what UPC and ASIN are. So, I've explained them in detail.
What Is UPC?
UPC or Universal Product Code is a 12-digit number or numeric code printed on the product packaging. You will find it on every product below the barcode. The main purpose of the UPC is to help you scan and record the products.

When you enter the UPC code in your system, it will display all details related to the particular product (provided that you have added the product details to the system).
What is ASIN?
ASIN stands for Amazon Standard Identification Number. It's a ten-digit alphanumeric code used by Amazon to identify products.
You can see an ASIN in the image that belongs to Echo Dot from Amazon. Every product you want to list on Amazon should have an ASIN updated from your Seller Central Account.
Initially, the ASINs were unique for all Amazon marketplaces. But now the concept is totally different, you may see similar ASINs on multiple Amazon Marketplaces referring to different products.
So, it is important to use a UPC to ASIN converter to create ASINs based on the Amazon Marketplace you are selling on.
Some of these converters even let you choose the country prefix for added convenience.
Top UPC to ASIN Tools Amazon FBA Sellers Use
These are the best tools sellers recommend and use for bulk conversion from UPC to ASIN. Some converters even help you convert the ASIN to EAN or ISBN.
Let's get started with the list: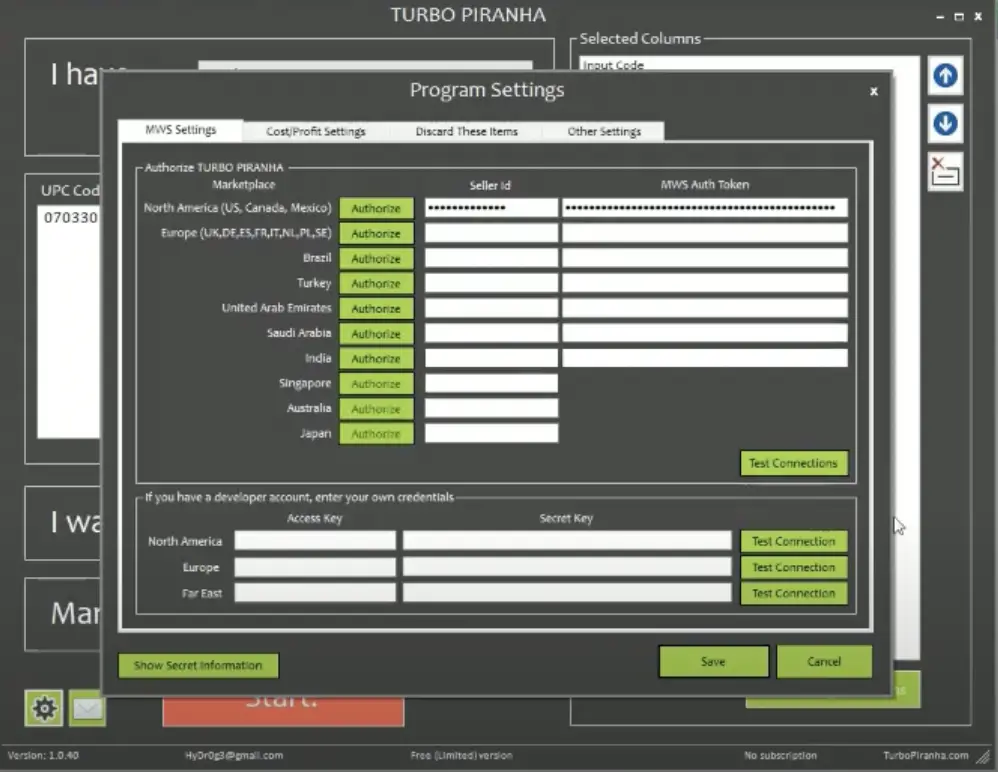 Turbo Piranha is a great UPC to ASIN converter that helps you with bulk conversion. The tool has a feature to import a file of UPCs, and you can convert them into ASIN with a click.
There's an option for manual entries as well if you have limited UPCs. Using this tool is pretty easy, and even new sellers can use it without any assistance.
Here's how the interface looks like. When you enter the UPC list, it gets converted into ASIN quickly. Furthermore, you can even add or change columns depending on your requirements.
You get a detailed chart from Turbo Piranha after conversion, and it looks something like this:

Another UPC to ASIN conversion tool that FBA sellers use is Synccentric. This is an excellent tool with the capability of processing up to 100K queries in one go.
You can use it to look up products on Amazon using UPC or ASIN. Furthermore, it even helps you in converting UPC-to-ASIN or ASIN-to-UPC.
The tool is pretty straightforward to use and even lets you import a CSV file for bulk conversion. The best thing about using Synccentric is that it has the prefix option.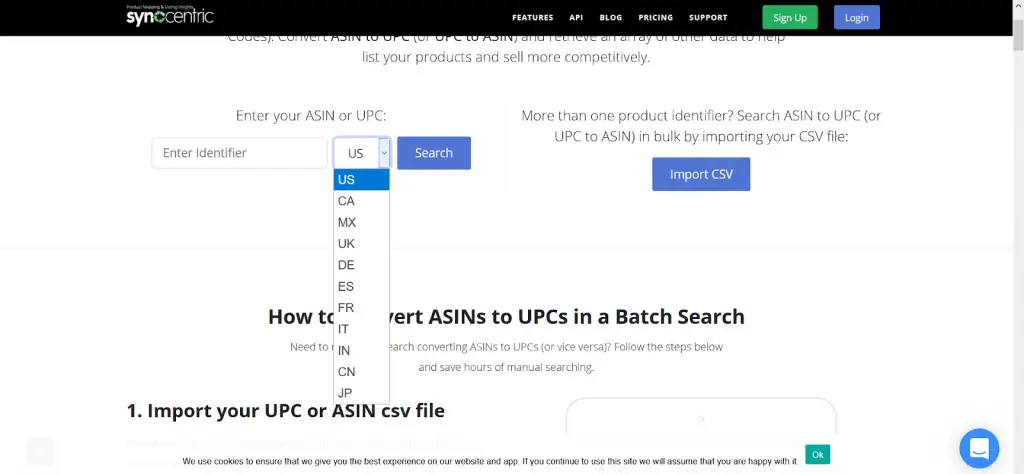 FBA sellers that sell on different Amazon marketplaces should use this tool to convert UPC to ASIN by changing prefixes depending on the products specified for a particular marketplace.
You'll get all the necessary information on how to use this tool on the official website, and you can get started with it right away.
When it comes to pricing, Synccentric falls under the premium category, but you get the convenience of converting UPC to ASINs in bulk, so it's worth it.
If you are looking to convert UPC to ASIN and SKU to ASIN, you should use Asinscope. The tool is really helpful for bulk conversion and is something FBA sellers should use. The interface is straightforward, and you can upload CSV or TXT files for bulk conversion.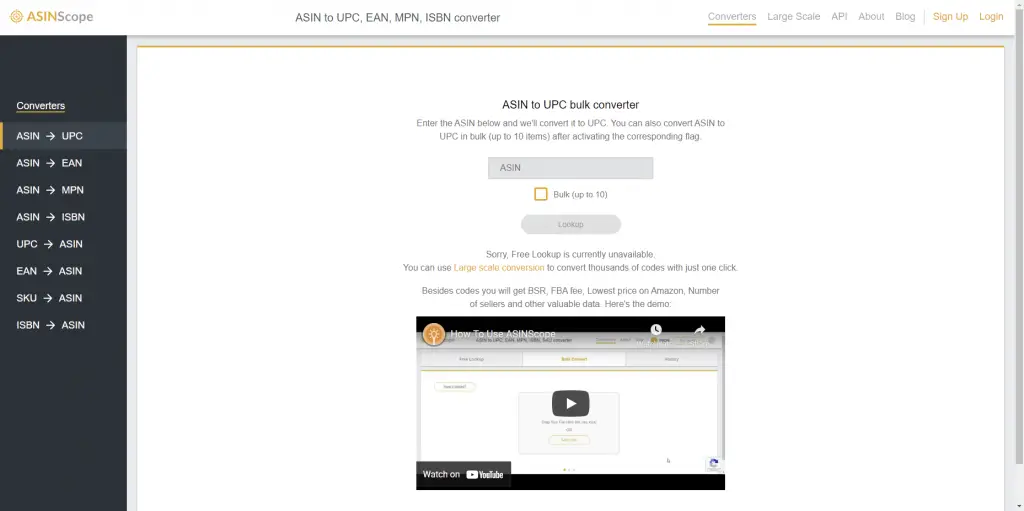 Check out this video to understand how the tool works and how it is helpful for FBA sellers. You can even choose the Amazon marketplace, so Asinscope is a worthy option for FBA sellers selling on different marketplaces.
Next on the list is Barcodebot, which is a versatile tool useful for UPC to ASIN bulk conversion. The tool helps in Amazon bulk lookups and can convert ASIN to ISBN (if you are into selling books).
You can look up the UPC and then convert it into ASIN when required. On the left of the picture, you can see different conversion options that are helpful for FBA sellers.
Overall, Asinscope is a good tool for bulk conversions. It even lets you upload CSV and TXT files, so your work becomes easier, and you can avoid doing manual entries when converting ASINs from UPC.
Why Do FBA Sellers Need a UPC to ASIN Conversion Tool?
You might be wondering why I need a tool when I can do it manually! Well, not using a conversion tool can have several downsides, such as:
Using UPC to identify products is hard, especially for items available in packs (5-items) or (10-items). These products can have the same UPC, while the item count can be different, so you need an ASIN to list such products.
There can be several ASINs for a single UPC, so it is not surprising if the Amazon Inventory Loader can make mistakes by matching the UPC to the wrong ASINs.
Several products may have wrong UPCs, so converting them to ASIN is essential.
Final Thoughts
It's important to have a good UPC to ASIN tool handy so that you can do bulk conversions just with a click. These are the top tools FBA sellers use to streamline the process while focusing on other aspects of their Amazon business.
Check out the tools, and have a look at the pricing and features to decide which one works better for you.
For more information about Amazon FBA selling or to get more sales on Amazon, subscribe to our FBA Coaching.
Get in touch with us for more details.