"Amazon dominates the online retailing industry, making it an opportunity for numerous Amazon sellers to earn big money with the platform."
If you are looking to get more sales through your Amazon FBA business, you might have come across the Private Label Master Course.
It's a comprehensive course by Tim Sanders with multiple modules designed to help you become a successful seller on Amazon.
But is it the right course you need to grow your Amazon business? Well, with so many FBA courses in the market, sellers these days are getting more suspicious about the course's authenticity.
So, to help you make a decision, I'm here with this detailed Private Label Masters Course Review. The post highlights everything the course covers and how it claims to help you.
Read on, and find out if you should take this Tim Sander course or not.
For those in a hurry and need a quick review and sneak peek of the course, here's a video you should check out. Continue reading the article for the Private Label Master Course detailed review.
Who is Tim Sanders: The Man Behind the Private Label Masters Course?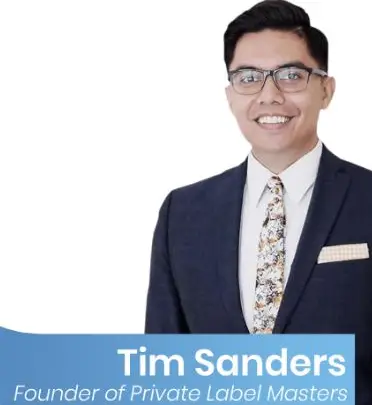 Tim's real name is Timothy Sanders, and he is a successful Amazon seller that closed an 8-figure sale in the last year (that's what he claims, and I found the figures legit during my research).
With a vast experience in Amazon FBA, Tim created a course of 8 modules in which he explained his experience and the tactics to get more sales.
Tim claims that he did the required due diligence before coming up with this course to ensure that it covers everything the Amazon sellers need to know.
I like Tim because he's a genuine guy who comes from a decent background. Furthermore, he only teaches about the strategies and tactics he has used to stand his business empire.
Let's talk about the Private Label Masters Course that Timothy offers.
What is Private Label Masters: What Does the Course Cover?
Tim Sanders has developed the Private Label Masters course to help beginners learn to enter the Amazon FBA environment and scale their business to new heights.
The course is popular among beginners as well as intermediate-level Amazon sellers looking to get more sales, thus more revenue and higher profit.
Usually, most FBA courses are somewhat boring as they talk about many things that are even not applicable in real life. So, Tim has divided the course into eight modules to make it interesting and easy to understand.
Here's what each module has to offer and how it is beneficial in growing your FBA business:
Module 1: Introduction (Total Video Time: 25 Minutes and 21 Seconds)
The whole module finishes in just 25 minutes, so you don't have to spend an entire day learning something new. The module commences by welcoming all the students to the course.
Further, Tim makes sure that everyone knows that the course is no shortcut to earn millions in a night. Only solid determination, focus, and smart work of six months will allow them to scale their business to new heights.
And this is what I like about the course there are no fake promises.
Tim focuses on the point that success comes to those who progress with a confident attitude that hungers for self-knowledge and strong work ethics.
Next, he explains the five key components of the business strategy when targeting Amazon FBA. Let's have a quick sneak peek at them.
Mindset
Tim shares the importance of having a strong mindset that will help to face the upcoming challenges easily. Since Amazon FBA is a highly competitive platform and making good sales is no cakewalk.
Licenses
Tim talks about all the licenses present and why he opted for the LLC to move forward in building his excellent business structure.
Taxes
Tim showers light on the importance of business CPA and explains the process of getting the EIN.
Liability Insurance
Tim alarms the beginners to stay away from selling products that have high liability at the beginning of their business career.
Amazon Fees
He talks about several costs included in selling products on the Amazon platform. These costs include warehouse fees, shipping costs, costs of receivables, and more.
Timothy ends the first module by giving you the correct choice of products to choose and explains why having the right mindset will help you make a successful business structure.
Module 2- Product Research (Total Video Time: 2 Hours, 54 Minutes and 14 Seconds)
This module is the longest of all the others, as Tim talks for 3 hours approximately, so make sure you have a cup of strong coffee at hand.
Product research lays a strong foundation for any business to grow, and Amazon FBA is no exception. Using a baseball reference, Sanders explains his business structure. He says the Amazon seller (you) are the coach, and the products are the players. In short, you have the ultimate knowledge about the products, i.e., the highest selling and the low selling products.
The million-dollar question arises whether to choose one player with a high batting average or to have more players with mediocre batting average play in your team?
He explains that selling more products brings more stability to the business in the long run, even if it makes small sales every day.
As a coach, what would you choose: a single-player that hits the home runs or multiple players with average batting?
Don't stress, here's the answer! Focusing on selling a single product will not elevate the stability of the business and is not a correct choice.
The course explains why you need multiple products to build a business structure with Amazon FBA.
Some other important things that Tim explains in the module are:
He talks about specific genres of products that should be avoided at any cost. He also gives reasons for all of them.
Next, he showers light on the Trademark and Patents aspect of the products. He explains that not every product will have patents or trademarks. However, Tim also describes the process of finding products with trademarks and patents.
He explains the importance of using research tools for product research and mentions some names like 999 Trick and Jungle Scout.
Tim focuses on some easy product changes that will allow the beginners to elevate the sales without going through any complex process.
He mentions some hacks and shortcuts to find niches with the low competition with which students can start their journey.
At the end of the module, he focuses on the importance of having patience with the product research aspect of the strategy. Product research plays a crucial role and requires time to learn and master. Getting it right at the start will help you to upscale the business smoothly.
Module 3- Product Sourcing (Total Video Time: 51 Minutes and 49 Seconds)
In this module, Tim focuses on the product sourcing aspect and has dissected it into three sections. Let's discuss them in detail.
Introduction to Alibaba.com
Here he gives insights about the Alibaba platform and its filters. He explains the filters he uses and how they play a vital role in the business. However, Tim uses some expensive filters, so you will be entering into a costly route if you are stepping into his shoes.
A Pro Tip: If you are sceptical about using Alibaba for sourcing products, check out these Alibaba alternatives for sellers.
Interacting with suppliers
In this section, Tim explains the importance of creating a rapport in front of the suppliers even if there is 10,000 miles of geographic distance.
He mentions the importance of engaging with multiple suppliers efficiently. Furthermore, Tim explains the need to understand the culture of the supplier and to get the suppliers interested in doing business with you.
Tim uses a dummy item to explain the whole process of working with a Chinese supplier. You will understand how informal attitude and gift-giving strategy works well with the Chinese suppliers as it is a part of their culture.
At the end of this section, Sanders talks about the process you need to undertake after finding the right supplier for business.
Communication and negotiating skills regarding Minimum Order Quantity (MOQ)
In this section, Tim showers light on gaining the necessary knowledge before discussing business with the sellers.
He talks about the questions that will help you differentiate between different levels of suppliers. Moreover, Tim explains the method to leverage the MOQ to your advantage. He shows a clever technique that allows you to grab your first order below the mentioned MOQ.
In a nutshell, you will learn the importance of work culture in this module and how every supplier located at different places needs specific attention. You will understand different techniques to attract suppliers that are far away from you and how to take advantage of certain bargaining tricks.
Furthermore, Tim teaches some tactics to help beginners communicate with the sellers over chat in order to build a strong foundation for the business.
Module 4- Shipping (Total Video Time: 54 Minutes and 8 Seconds)
The module focuses on finding the correct shipping techniques and steps to take before shipping the first orders for your business. The module takes around 60 minutes to complete and helps beginners understand the importance of a good freight forwarder.
He trains beginners to understand the shipping options. As per Tim, the best ways to get the products shipped are air and sea transports. Tim explains when to use air and sea mode according to your requirement.
He tells about his freight forwarders that are Flexport and Freightos, and gives details on both of them.
In this section, Tim tells the way to send the correct shipping labels to the respective suppliers.
Tim ends the module by explaining the importance of never sending your shipment to Amazon directly.
Further in this module, he highlights the importance of using an inspection and forwarding service while receiving the shipment. He explains that with these services, you can tackle the issue of receiving damaged and defective products, and that can save you a lot of money.
Moreover, the beginners can reduce their expenditure on Amazon's long-term storage fees.
In the end, he explains why you should stay away from low-quality products as they can become a liability for the business.
Module 5- Branding and Optimization of Product Listing (Total Video Time: 2 Hours and 33 Seconds)
The module consists of 10 videos and clocks up to approximately two hours. Tim mentions the importance of different branding strategies in this module and covers techniques to optimize the product listings. Here are the major highlights of the module.
Tim explains the elements that are vital while creating your brand name for your business.
He mentions some ways to simplify the process of labelling a product.
Tim unfurls the importance of using keywords and gives three tips to leverage the keywords to your advantage.
After this, Tim mentions the data-driven tools that he trusts and explains the process to use them.
He discusses the auto-populate feature of Amazon and explains the process for creating a list of seed words.
After explaining all the techniques on branding, Stacey, copywriter of Tim, steers the module into copywriting concepts for the optimization techniques. You get proper training on all the six concepts explained by her in this module.
The key points of the training are mentioned below.
Proper knowledge of the product you are going to sell
Getting deep insights into the potential market (i.e., Your targeted audience)
Making a fantastic title (that attracts the buyers)
Getting the bullets right (for easy skimming through the product details)
Proper engagement of the audience by using a resonating product description. (Engagement is important for better conversion)
Staying ahead of the curve by good editing that includes a new element besides the spelling and grammar aspects
Module 6- Product Launch (Total Video Time: 48 Minutes and 39 Seconds)
The module is one of the shortest in the bundle and gets over under 50 minutes. Tim showers light on the importance of launching the product on the Amazon platform and explains two different ways. Let us see the details of both methods.
Launching Products Using ZonJump (Amazon Launch Service)
Tim incorporates a video of Leo, CEO of ZonJump, in which he explains the features of the products and how everyone can use the platform to kickstart their campaign. He also gives insights about pre-launching products, which can be pretty useful.
Launching Products Using Facebook
In this section, Tim talks about the things he used while making his FB ads. The first half of the video concentrates on creating a strong URL that will dominate the Amazon platform. Tim explains two methods, namely the Two-Step URL Method and the Storefront URL Method.
In the second half, Tim explains the construction of the Facebook Ad. Here are the insights of the next half.
Using Microsoft Paint to create Ad visuals instead of using the Photoshop platform
Tricks to change the font and style to elevate the reach of your Ads
Tracking results of the keywords that you are targeting using the Helium 10 tool
Some tricks to adjust the Ad copy
The best thing about this section is the expectations that Tim sets. I am into Amazon FBA for years, and launching a product isn't a one-day celebration.
Even Tim discloses to the beginners that product launches can take months to come into effect, and that's essential to understand this business.
Furthermore, you get a 12-week plan that's effective when launching products on Amazon. The plan highlights the areas where the sellers should pay attention in order to launch the products successfully.
Module 7- Sponsored Products (Video Time: 1 Hour, 25 Minutes, and 25 Seconds)
The module clocks under 90 minutes, and Tim and his assistant Aaron Eaton, who is an expert in Pay-Per-Click (PPC) campaigns, carry forward it.
There are nine videos in which Aaron covers all the aspects of the campaign. Here are the key sections of the module.
Keyword Selection: Aaron explains different aspects of the keywords that include their nature, definition, and the ways to use them in your campaign. He focuses on the importance of selecting the right keywords for your campaign to make it successful.
ACoS and Bidding Prices: He explains the objective of PPC campaigns and their importance.
The Automatic Campaign: He gives a walkthrough of the construction of the campaign with some accurate advice on bidding prices.
Manual Campaigns: Aaron explains the whole pyramid of the campaign. From broad match to exact match, you will get everything in this section.
The Search Term Report: He mentions that the report gives detailed stats on the pay-per-click actions and efforts.
PPC Pyramid: Aaron explains the filtering cycle of keywords in detail, giving proper insights into it.
Moving Up Keywords: He explains the value of Moving up Keywords and how they play a crucial role in the campaign.
Weekly Task: Here, you will get information on maintaining high-converting PPC offensives.
The Ultimate Campaign: Aaron provides an outstanding campaign where you get low ACoS.
Module 8- Maintaining and Scaling your Business (Video Time: 1 Hour, 1 Minute, and 25 Seconds)
The module runs for around one hour. In this section, Tim builds on the previous seven modules. He gives different suggestions to tweak your processes and strategies to make the business more profitable.
Here are the key highlights of this module.
Tim highlights the importance of doing product reviews
Tips to add revenue with the help of Amazon promotions
Explains the three aspects that are crucial to maintaining steady sales for your business
Tips on handling the running out of the stock situation
Illustrates the split-testing method for optimizing product listings
Leveraging the Amazon lightning deals and taking proper advantage of them in your business
Finding VAs with high calibre
This is probably the most helpful video that you cannot afford to miss. Tim presents some strong facts to help beginners understand the tactics to stay in stock for longer while keeping track of the keywords.
Furthermore, the module focuses on how to avoid hijackers. The video will help you fend off the buy-box scenario.
Pros and Cons: Private Label Masters Course Review
Pros
The course covers the strategies used by Tim that helped him scale FBA business.
Wholistic content that makes sense
Updated information
Tim is usually active in the FB's support group of the course
Cons
It's expensive
Limited product supplier sourcing location
How Much Does Private Label Masters Course Cost?
Here comes an important section of this post, how much does the Private Label Masters course cost. Well, this isn't a cheap FBA course with a handful of useless modules. All the information that Tim covers is useful and helps beginners in understanding Amazon FBA.
The Private Label Masters (PLM) course by Tim Sanders costs $5000 (USD). Yes, that's a big amount, especially for beginners that are planning to step into the Amazon FBA business.
Should you spend this much money on a course? Are there any cheaper alternatives to Tim Sander's Private Label Masters Course?
Read the article to find out if subscribing to this course makes any sense or not.
It is Another Futile Course that Doesn't Walk the Talk?
There are several Amazon FBA courses out there that are just pointless. The information covered in them doesn't make any sense, and all you get is a set of useless videos that aren't any helpful in scaling the business.
Is Private Label Masters Course the same as these courses? Or is it any different?
Well, I have watched some modules of this course, and I can say the information Tim shares are legit, and there is nothing I can term as useless. Yes, some modules are long and need dedication to watch, but the information the course covers is good.
Being a successful Amazon Entrepreneur, Tim has developed a good course in which he covers everything to kickstart the business.
Undoubtedly, the course lacks in the traffic generation section, but you get ample insights on branding, product research, and other important aspects.
The major highlight of the course is that Tim shares his knowledge and experience from the last year when he created an 8-figure sale for himself, but there is no surety that you can also reach an 8-figure profit with the course.
So, if you are a beginner in the Amazon FBA world, then this course can be a good choice if you have enough cash to spend on something.
Is the Course Worthwhile?
There are several modules that make this course worthwhile, but some modules aren't that helpful as Tim claims. No doubt, the course is high quality and covers valuable information, but you will find that information online in the form of YouTube videos and blogs.
There are tons of Amazon Amazon sellers that haven't subscribed to any of these courses and are still doing good. After watching the modules, I went online to search for the information Tim covered in the modules.
You can easily find several strategies online to kickstart your Amazon FBA business. The only downside to this course is the price. If you need everything on one plate and don't want to spend time researching and implementing strategies, you can go for Tim Sander's PLM course.
However, even after opting for the course, you have to do a lot of hard work to implement what you have learned from Tim.
What are the Problems with Amazon FBA Business Model?
Why is there a need for such a course? Cannot you directly get started with Amazon FBA? Well, there are several problems you can experience with Amazon FBA, and that has given birth to courses like these.
Here are the common problems sellers experience with Amazon:
Amazon FBA is an amazing opportunity to earn money without having an office. As a result, thousands if not millions of people enrol with the platform to start as a seller.
No doubt, the competition is brutal, and it is daunting to find low-competition products that you can rank for easily. The typical approach most private label sellers used to follow is scouting low-competition products, which is not the case these days.
Excessive competition has made it challenging to survive on Amazon, and that's why sellers opt for such courses to know how they can get better sales.
Price wars have made it hard to sell products since there's always a seller offering the same product for the lowest price than yours. In order to appear on the Amazon Buy Box, sellers often drop the price to the point that there is no margin to run the business.
You can use some tools like Repricerexpress to avoid implementing less profitable repricing strategies. In a nutshell, price wars are leading to razor-thin profit margins that make some sellers quit Amazon FBA. Some sellers even decide to trade the products at a loss just to appear on the top of the Amazon buy box.
There are only a handful of courses that talk about customer services for Amazon FBA sellers. As per several reports, the customer service by FBA sellers isn't up to the mark, and that results in lesser sales and drops in seller's ratings.
I recommend outsourcing the customer service to some reliable company that can take care of your customers and helps in resolving their concerns quickly.
Receiving Amazon Feedback
If there's something that can have a direct impact on your product rankings, it's none other than receiving customer's feedback. There was a time when sellers used to bribe the customers with freebies and gifts in order to leave a positive review on their products.
But this isn't the case now. Amazon has smartly tweaked the algorithms that restrict the sellers from asking customers directly to post reviews.
This course by Tim Sanders highlights the importance of Amazon feedback but unfortunately doesn't help you with any tactics to get benefits from it.
There are several tools available that you can use to improve Amazon feedback.
Sourcing products is one of the most challenging tasks of selling on Amazon. Typically, Amazon sellers choose suppliers from China as the products are cheap and of good quality. But selecting a supplier and communicating with it is a task.
Thankfully, the Private Label Master Course by Tim Sanders covers this aspect. You can learn how to find reliable suppliers, the way to establish healthy communication with them, and sourcing products directly from their location.
Merely putting the products on Amazon doesn't convert into sales unless you invest time in branding and marketing them. Branding is often a challenge, especially for newbies that want to start with Amazon FBA.
Courses like Private Label Masters Course can help beginners learn important skills to brand and market the products to achieve better conversions.
Furthermore, there are many challenges with the Amazon FBA business model that you can solve by connecting with industry experts to opt for courses like these.
Are There Any Alternatives to Tim's Private Label Masters Course?
No doubt, the PLM course by Tim Sanders is expensive, so folks start looking for alternatives. There are several Amazon FBA courses available, but you should only go for tried and tested courses that can help.
Here're some courses you can enroll in if you don't want to go for the Amazon FBA course:
Private Coaching with Sourcing Monster
This isn't a fully prepared course like Tim Sanders, but what you can expect is pure knowledge that can help you become a pro at Amazon FBA. I am into FBA for years and can share my valuable insights with you.
There are three packages that you can opt for:
Costing $100 an hour, this is the cheapest way to be a pro at Amazon FBA. In this coaching session, I share my screen with the learners and offer them 1-1 personal support, which results in better growth. Furthermore, you get a free listing review and all under $100 per hour.
The advanced plan is for $250 for 3 hours, and you can learn a lot about Amazon FBA and its business model. You can ask as many questions as you have, and I offer 1-1 personal support throughout the timeframe the session lasts for.
This is the most loved plan that I offer, and it costs around $450 for 6 hours. You can know a lot about Amazon FBA and the time-tested strategies that I used to become good over time.
You can subscribe to any coaching plan to become a master at Amazon FBA, and that too without burning a hole in your pocket.
Here's another Amazon FBA course that isn't much cheaper than Private Label Masters Course, but it covers valuable information that can help you be a fantastic seller while opening the doors to growth.
The course covers excellent branding knowledge and MOQ strategies that help the sellers in outranking the competition. You get access to multiple videos that cover the course in 180 hours.
There are more than 30,000 active members, making it a good course that can help you kickstart your career as an Amazon seller.
Price of the Course: $4997
Run by Sophie Howard, this course can help you learn about the products you can sell on Amazon. The thing that I like the most about this course is the engagement. Sophie ensures that the audience sticks with the course and gets the valuable information they need to be a better seller.
The length of the course is 35 hours, and you get access to 14 modules covering every aspect of products. The USP of this course is that Sophie shares her tips and tricks that she used to build a market for her products.
Price of this Course: $3495
If you are looking for something cheap, this is the Amazon FBA course you can opt for. The length of the course is 7 hours, so don't expect it to teach you everything about Amazon FBA.
The course covers FBA topics that can help you sell products and learn how to source them from the supplier. In a nutshell, it is a basic Amazon FBA course to get some information about the FBA business model.
Price of the Course: $499/$29 per month
This is another cheap Amazon FBA course that's for beginners looking for high-quality information that's easy to understand and isn't overwhelming at all.
You get access to more than 100 videos with the course with core presentation that helps you at every step. The course is inexpensive than PLM and some other courses listed in this post.
Price of the Course: $997
My Take on Tim Sander's Course: Private Label Masters Course Review
I did extensive research about Private Label Masters Course to determine what the course offers and how each module is beneficial for beginners. However, the information that the course covers can be found online, and you can gather several strategies after some research.
The course is expensive, and that makes most beginners avoid it as investing $5000 is a big decision. I don't doubt Tim's skills and decency anyway.
The information that the course covers is 100% legit and useful, but it isn't exclusive, which is a major problem with the course. Also, one of the major drawbacks of the course is the limited product supplier sourcing location, which should be there as the course is expensive.
Frequently Asked Questions
Q: Do you get a discount on Tim's PLM course?
A: Yes, you can get a discount on the course by getting in touch with Tim's team members. Contact the team members and ask that you need a discount. Some users get discounts of up to $1500, so you can get the course for $3500.
Q: Is the Private Label Masters Course helpful?
A: It depends on what you are looking for. The course is helpful, but there's no exclusive information available. At $5000, it isn't the best Amazon FBA course you can opt for.
Q: How to learn to sell on FBA without spending a lot?
A: The best way to learn about Amazon FBA is to get private coaching from an FBA guru. There are several benefits of getting coaching, as it costs much cheaper, and you get a 1-1 session with the guru so you can learn the best tactics and strategies without any fuss.
Q: How much can I earn with Amazon FBA?
A: If you are a beginner, don't expect to make a 7-figure within the very first year. It takes time to set up the Amazon FBA business. Look for a reliable FBA expert and take some coaching sessions to learn how the FBA business model works.
Q: Can I pay for the PLM course in instalments?
A: No, there's no such option available, but you can get a discount of $1500 while purchasing the course.
Final Thoughts
Tim makes sure to revise the course with up-to-date information so that it helps the users get the best insights about Amazon FBA. However, there are a few downsides to the course, such as it lacks a 1-1 session, which is essential to become a good seller.
Furthermore, this Private Label Masters Course Review covers everything about the course Tim offers. Taking the course or not is entirely up to you, and you can quickly make a decision depending on the facts present in this article.