Advertising on Amazon is a helpful tool for sellers to increase their sales. This is why it is important for sellers to learn everything they can about Amazon Advertising and how they can easily manage their ads so they won't need to hire agencies outside to do it for them.
One way to help sellers manage Amazon Ads is through the Amazon Advertising Dashboard, but what exactly is it?
In this blog post, I will discuss the Amazon Advertising Dashboard, the different types of Amazon ads available for third-party sellers, how to run PPC reports, and important metrics to track.
Read the entire post and find out how sellers can benefit from using the advertising dashboard.
What is Amazon Advertising Dashboard?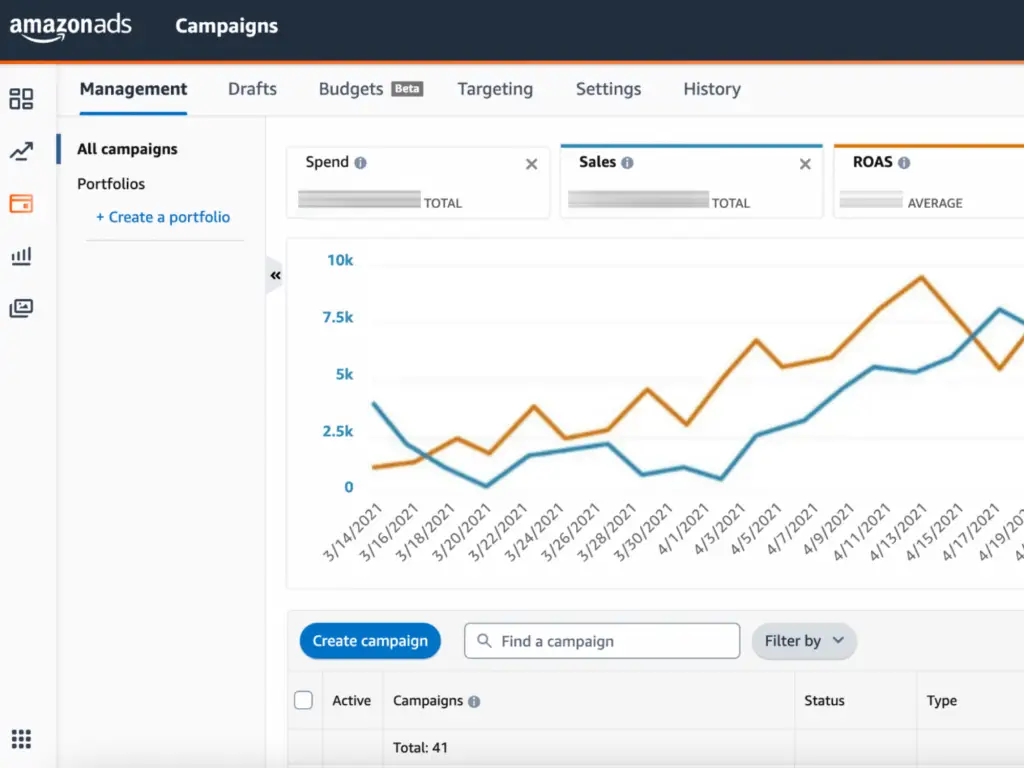 The Amazon Advertising Dashboard is where sellers can create, manage, optimize, and monitor their ad campaigns. The Advertising Dashboard is also commonly called Amazon Campaign Manager or Advertising Console. In addition, the Advertising Dashboard helps sellers make their product listings more visible to Amazon buyers.
Some of the features of the Advertising Dashboard are:
Opportunities
Brand Metrics
Sponsored Ads

Campaign Manager
Bulk Operations

Measurement and Reporting

Reports
Amazon Attribution

Creatives

Creative Assets
Creative Services
What Are the Different Types of Amazon Ads for Third-Party Sellers?
While Amazon has several advertising products available for third-party sellers, below are the three major advertising products of Amazon. All Amazon sellers enrolled in Seller Central can run Sponsored Products campaign. For Sponsored Brand and Sponsored Display, only those enrolled in Amazon Brand Registry can run them.
Sponsored product ads appear on Amazon's shopping search result and product pages. It promotes particular product listings. Since sellers do not need to register in Amazon's Brand Registry, this type of campaign provides the lowest barrier of entry for new Amazon sellers in Amazon's advertising product offering.
Sponsored Product campaigns are available to all Amazon professional sellers, agencies, and vendors. It is a cost-per-click (CPC) advertisement that let advertisers target shopper searches based on individual items or individual keywords.
In the Amazon Advertising dashboard, advertisers may track the performance of their Sponsored Product campaigns by product, target keywords, and target product.
Sponsored Brand campaigns are identical to Sponsored Product campaigns in a way that they are cost-per-click ads that include a keyword or product targeting. When it comes to ad creativity, Sponsored Brand campaigns run differently compared to Sponsored Product ads.
Sponsored Brand advertise a brand page or several goods offered by the same brand and not just a single product listing. There are several options for Sponsored Brand ad creative, these are video ads, shop highlight commercials, and product collection advertisements.
The Sponsored Brands Ads can be displayed on the product pages and within shopping results. The ads are shown to buyers depending on products or relevant keywords. A carousel style of some of the brand's products is displayed with the logo and brand name in the product collection advertisements.
Rather than focusing on a single product, they link to each product listing in the carousel, and may be a great way to drive attention and sales to a brand's complete product catalog.
Store Spotlight ads use a similar carousel structure, except they connect to an Amazon brand website.
Sponsored Display campaigns are yet another cost-per-click advertising option for Brand Registry retailers. Sponsored Display advertisements can reach people on and off Amazon, with the option of targeting individual products and product categories or serving display ads with a single product image to Amazon users.
Alternatively, Sponsored Display ads are used to remarket to customers who have previously visited a specific product detail page and deliver single product display advertising to those customers wherever they are on the internet.
Sponsored Display campaigns can be a powerful tool for building brand and product awareness. It can also be used to re-engage users who may be lower in the conversion funnel and have visited a product details page but have not yet made a purchase, across social platforms and on websites enrolled in Amazon's Demand-Side Platform (DSP).
DSP allows Amazon sellers to buy ads programmatically to reach both existing and new audiences inside and outside of Amazon.
How Do I Run A PPC Report on Amazon?
It is easy to download your PPC report on Amazon. Here's how to do it.
In your Amazon Advertising Dashboard, click on Measurement & Reporting.
Choose Reports.
To run a report, click on Create Report.
It will open in a new window, then choose the Report Category and Report Type from the drop-down menu, pick the Time Unit, and the Report Period.
Name the file (optional) and click on Run Report. You can also choose to receive the report in your email.
Refresh the page after a few seconds, and you will find the download symbol, click it.
Please note that all reports are generated in .csv format and .xlsx for Mac users. However, you can convert these reports to Excel manually for easy viewing.
What are the Different Advertising Metrics to Track?
Aside from the usual metrics that sellers normally track, such as Click Thru Rate, Cost Per Click, Impressions, and Orders, there are other important metrics to track.
Advertising Cost of Sales (ACoS)- It is the amount you spend on your ads for every dollar of your revenue. It is used to measure the ad campaign's efficiency as a percentage. Sellers use it as an indicator of whether or not an ad is performing in relation to the amount spent on the ad. To calculate for ACoS, divide your total ad spend by your total sales.
Return on Ad Spend (RoAS) – This measures the inverse and effectiveness of ACoS. To calculate the RoAS, divide the total ad sales by total ad spend.
Total Advertising Cost of Sale (TACoS) – This measures the advertising spend in relation to the total revenue generated. TACoS can provide a better insight in terms of the long-term growth of your brand. To compute TACoS, get your total ad spend and divide it by your total sales revenue then multiply it by 100.
How Can Amazon Advertising Dashboard Benefit Sellers?

Below are some of the benefits of the Advertising Dashboard for Amazon sellers, which can help them maximize its features.
Performance Monitoring
Amazon sellers can easily analyze the performance of their ads through the Amazon Advertising Dashboard.
Each campaign will display a line chart that shows the effectiveness of their ads over a period of time. They can also choose which metrics they want easily displayed on their dashboard.
They can also download reports within the dashboard to give them insights into whether their ads are performing or not.
Easy Ad Management
Within the Amazon Advertising Dashboard, sellers can manage their ads with ease. They can create and edit their ads in a single dashboard.
Link Multiple Accounts
Another interesting benefit of using the Amazon Advertising Dashboard is that sellers with multiple Amazon seller accounts can link them all and manage them in a single dashboard. You can link multiple country-specific accounts through the manager account dashboard if you sell in different countries.
I have an entire playlist about Amazon PPC on my Youtube channel Sourcing Monster called "All About PPC" that can help you manage your campaigns and get the best experience!
Conclusion
It's really a good thing that Amazon came up with their advertising dashboard. It's a big help for Amazon sellers to create ads and increase their visibility and sales on Amazon. What's your favorite feature in the Amazon Advertising Dashboard? I would love to hear your experience in the comments below.